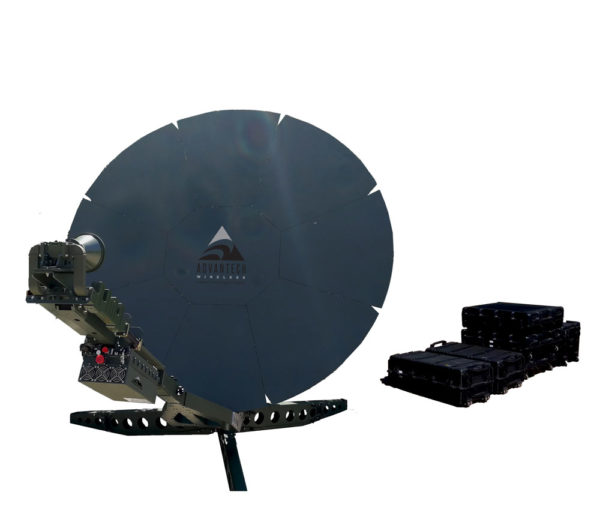 2.4 Meter Flyaway Engage Class
High Performance Satcom Terminal Solution
X, Ku, or Ka-Band terminal
Bandwidth efficient digital modem access technology or
Optional two  modems built in, for two separate independent links
Second Generation GaN based SSPB
Overview
The Engage Class High Performance, 2.4m Flyaway Satcom Terminal Solution from Advantech Wireless Technologies is based on a high efficiency, ruggedized tri-band ready 2.4 Meter Flyaway Antenna, which can cover X-Band, Ku-Band or Ka-Band, by replacing the feed only. The antenna is optionally fully motorized with an integrated satellite finding controller.
The terminal has built-in either:
A multi waveform-access mode satellite modem.
Mil 165A Grade Technology Modem
The RF section includes the award winning Second Generation GaN based technology SSPA/SSPBs.
X-Band from 20W to 100 W
Ku-Band from 16W to 125W
Ka-Band from 10W to 40W
Features
Flexible and Mobile Solution
Fully integrated system for easy deployment and use
Quick two-persons installation
Modem with multi access mode
DVB-S/S2X  compliant
Two modems for two independent links
Multi Band Frequency X, Ku or Ka-Band operation
Compact ruggedized packaging, IP65 compliant
State-of-the-art Second Generation GaN based Solid State Power Amplifier
Excellent Reliability
Minimal Maintenance