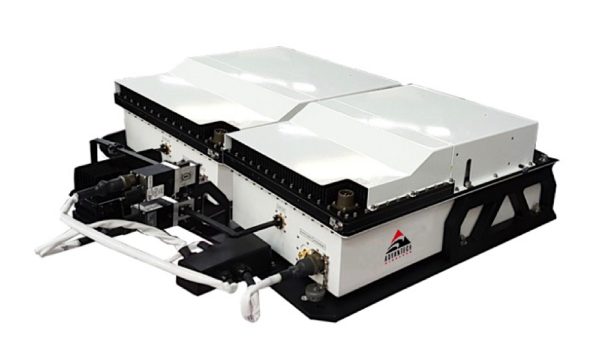 Features
Converts L-Band signal Ka-Band from 28.5 – 31 GHz (sub-bands)
Meets the requirements per MIL-STD-188-164A. WGS Compliant.
Integrated amplifier with an output power of 100W to 125W
Phase-locked oscillator to external 10MHz reference
High linearity (low intermodulation products), very low spectrum regrowth
Weatherproof package
Remote Monitor & Control
Protection against thermal runaway and out-of-lock conditions
Compact packaging
CE Marking
Options
Ethernet interface
Internal High Stability Reference with auto-sensing
Redundant system
Overview
The SSPB-3010KaTM series are hub-mount up-converter transmitters, operating in the Ka-Band. The SSPB-3010KaTM is an integrated unit, complete with power supply, phase-locked oscillator, mixer, filter and cooling mechanism.  Intended for outdoor operation, the SSPB-3010KaTM provides the utmost in convenience and efficiency. Other SSPB's are also available for higher powers or for operation at other up-link frequencies.
Application
The SSPB-3010KaTM systems are designed for Ka-Band satellite up-link applications. They are mounted outdoors, near the hub of an antenna. Also available from Advantech Wireless are the SSPA series – solid-state high power amplifiers – with all the features of the SSPB's except block up-converter. Please contact us for more information.
Redundancy
The SSPB-3010KaTM series are available in redundant configuration with single Monitor and Control interface.