[vc_row][vc_column width="1/1″][vc_column_text]
Advantech Wireless UltraLinear™ GaN based SSPAs/BUCs – SNG Solution Case Study
[/vc_column_text][/vc_column][/vc_row][vc_row][vc_column width="1/1″]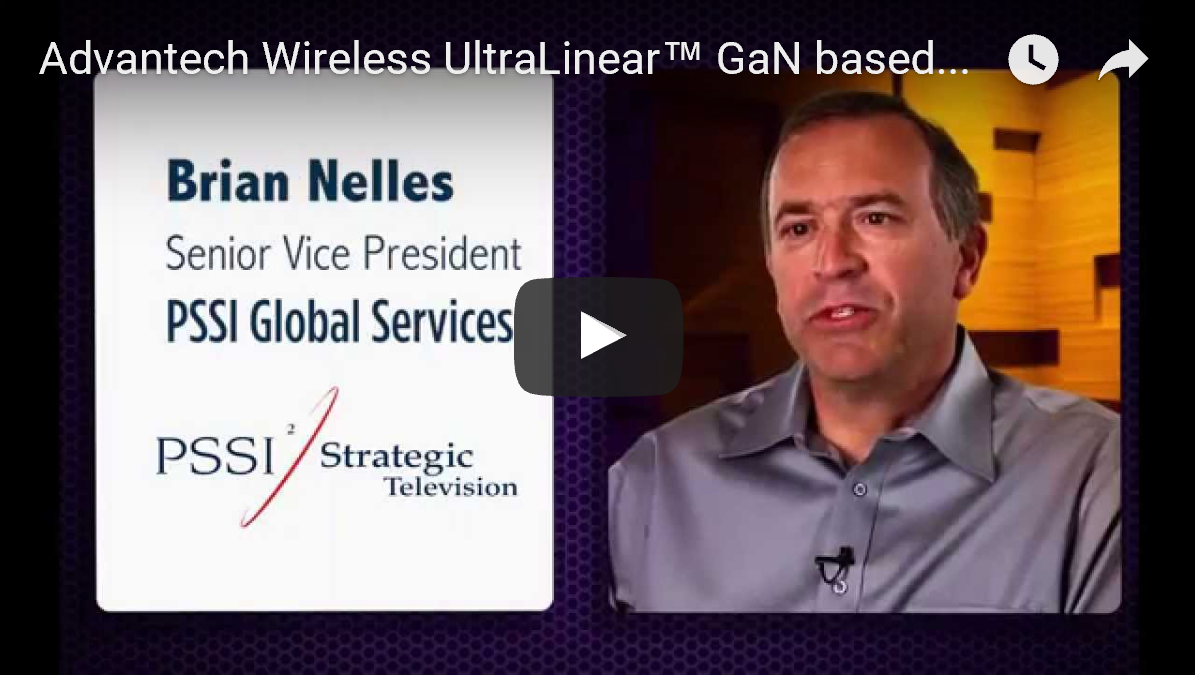 [/vc_column][/vc_row][vc_row type="in_container" bg_position="left top" bg_repeat="no-repeat" scene_position="center" text_color="dark" text_align="left" top_padding="50″ bottom_padding="20″][vc_column width="1/1″][vc_column_text]
Cutting-Edge Technology & Ground Breaking Performance
Awarded Teleport Technology of the year 2014 by the World Teleport Association and Vision Award as Most Innovative Product of the Year 2013, Advantech Wireless' SapphireBlu™ Series of UltraLinear™ GaN based SSPAs offers the highest linear power available in the market and is leading the way with ground breaking performance and pioneering technology.
With the new SapphireBlu™ Series of high power SSPAs able to reach now up to 6 KW in RF power, the Advantech Wireless line of GaN based SSPAs is well positioned to meet the most stringent environmental and the most demanding work conditions.
Featuring high power density in a compact, rugged and weatherproof package, the New SapphireBlu™ Class of UltraLinear™ GaN technology based solid state power amplifiers (SSPAs) and BUCs, exceed all barriers between Klystrons, TWTs and SSPAs.
Low energy consumption
High Efficiency
UltraLinear™ designed for Multi Carriers Operations
High Power
High reliability
Able to cover simultaneously all transponders of a specific satellite, regular or extended bands.
MLT-STD-188-164A compliant
Advantech Wireless UltraLinearTM GaN based SSPAS, are the ultimate solution for any uplink activity, such as content contribution, distribution and DTH TV. It is possible with them to saturate all transponders of the modern satellite with a single 13m antenna and a single amplifier per polarization.
This new architecture is designed for Multi-Carrier operations, with power expandable from 200W to 6.6 kW in C-band and 3kW in Ku-band by phase combining and soft fail philosophy. These new systems are redundant ready with no external controller required, perfect for Single Carrier, Multi Carrier and Multi Transponder Uplinking.
Advantech Wireless New SapphireBlu™ Series portfolio delivers unmatched performance, surpassing all technologies available on the market.
500W to 6000W X-Band
700W to 6000W C-Band
500W to 3000W Ku-Band
Combined with our high performance line of Satcom Antennas, these new systems are the only worldwide solution able to offer the maximum use of satellite bandwidth and power.
Summit GaN Based Modular Systems – Maximize Savings in Energy, Bandwidth and CAPEX
Advantech Wireless Summit Modular Systems are completely modular, with field replaceable RF or Power Supplies, solid-state power amplifier systems.
They deliver the highest linear power available and have 3 years warranty, due to increased GaN Technology reliability. By saturating all transponders of an entire satellite and obtaining maximum bandwidth/power efficiency, you save millions of dollars in energy costs, Satellite bandwidth and CAPEX.
Direct-to-home (DTH) TV Solutions
The Advantech Wireless 2500W Ku-Band Hubmount UltraLinear™ Modular SSPA/SSPB is the ultimate solution for direct to home TV. The power savings are 8 to 10dB compared to indoor Klystron.
It comprises high power density in a compact, rugged, weather proof package. It can cover multiple transponders, it is full DVB-S2 enabled, rugged, weatherproof outdoor package, MIL-STD-188-164A Compliant.
The ultimate solution for wide bandwidth, ultra high power satellite teleport uplinks. The Advantech Wireless 6600W X-Band and 6600W C-Band are the ideal solution for wide bandwidth, ultra high power satellite teleport uplinks. They are the maximum/power combination that you will even need.
The indoor modular package has an optional built in redundant L-Band interface for maximum link availability.

[/vc_column_text][/vc_column][/vc_row][vc_row type="in_container" bg_position="left top" bg_repeat="no-repeat" scene_position="center" text_color="light" text_align="center"][vc_column width="1/1″ enable_animation="true" animation="grow-in" delay="250″ column_padding="padding-3-percent" background_color="#f89c27″ background_color_opacity="1″][vc_column_text]
Maximize Satellite Bandwidth and Power with Innovative Solutions
For more information on how Advantech Wireless' innovative technologies can maximize satellite bandwidth and power, please visit our Direct-to-home Satellite Television & Internet Solutions page or Contact Us online[/vc_column_text][/vc_column][/vc_row]