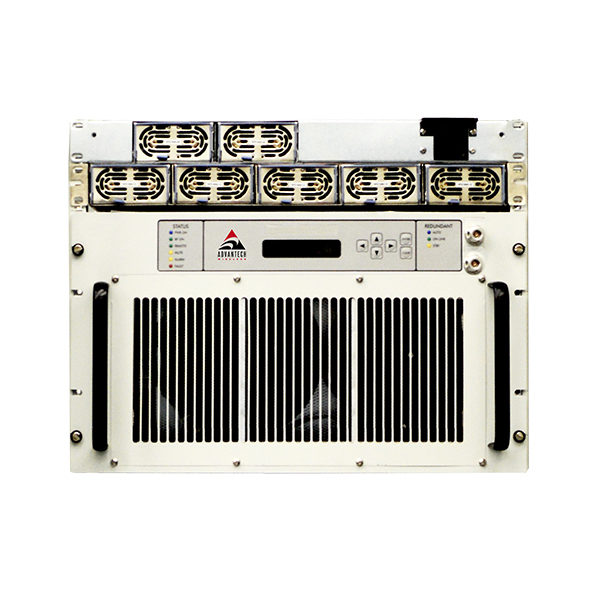 C-Band Rack-mount 150W to 1000W SSPA/SSPB
Overview
Advantech Wireless C-Band line of Amplifiers and BUCs are intended for satellite up-link applications. The design of these units is based on Advantech Wireless' proven techniques resulting in high linearity and operating efficiency. Conservative thermal design contributes to the very high MTBF for these units. Full monitor and control is provided via the serial or Ethernet ports. Special features such as automatic over-temperature shutdown and high-reflected power and overdrive protection contribute to a trouble free operation.
The ARM-C series Rackmount SSPA/SSPB (BUC) is available in output power ranging from 16W to 1000W. Higher power operation may be provided using external phase combining techniques offering an output power up to 6,000W. Please contact factory for more details.
Advantech Wireless also offers the SUMMIT and SapphireBlu modular SSPA systems for either indoor or outdoor applications.
The full set of accessories made available will facilitate the integration of these units in any application.
Features
Full range of output power from 150W to 1000W
High linearity
Redundant ready with no external controller required
Full M&C capability via RS-232 or RS-485
Forward and Reflected high precision power monitoring
Input / Output Sample Ports with precision Calibration Charts
Redundant Systems shipped fully tested
Infinite VSWR protection with automatic high reflected power shutdown
Built-in Harmonic Filter
PFC (Power Factor Correction)
CE marking
Options
1:1 or 1:2 redundant configuration
Phase combined systems for higher power
L-Band input (SSPB/BUC operation)
10/100BT Ethernet, WEB Interface,
SNMP v1, v2, v3 Interface
CLI
Very high stability 10 MHz OCXO (BUC)
Button RF On/Mute for fast emergency
Audible Alarm and ACO (Audible Cut Off) button
Accessories
Mounting slides
Remote M&C panel
500W, 1kW, 3kW Waveguide Loads
W/G Circulators
W/G Switches
Redundancy
Advantech Wireless C-Band line of Amplifiers and BUCs may be configured to operate in 1:1 or 1:2 redundancy mode. No extra controller is required for the redundancy operation as the built-in controller in each unit provides this function. For 1:1 redundancy operation, in addition to the two units (operating and standby) a special redundancy kit is required. For 1:2 redundancy operation another redundancy kit is needed in addition to the three units. The kits include the waveguide switches, terminations, splitter, interconnecting cable assemblies and mounting frames.
All redundancy systems are delivered fully tested.