Summit III
Powered by GENESIS
The modular construction of Summit III provides enhanced maintainability over conventional redundancy architecture.
Soft-Fail Redundant SSPA System
Delivers 500W to 2kW of linear, Ku-band power
Ethernet SNMP3 & Embedded Web server
Removable Power Supplies
Compact package, factory assembled and tested
No waveguide switching or external logic controller
High availability and low MTTR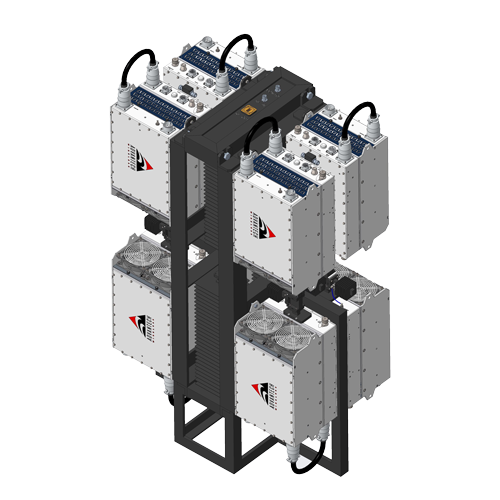 Advantech Wireless Technologies has been deploying Summit systems since 2012, with installations around the globe.
Systems installed ten years ago have provided 100% availability since they were commissioned. Summit is designed for outdoor installations, so they don't require external air conditioning or require an equipment shelter. IFL losses are greatly reduced when installed at the antenna.
Summit systems are comprised of multiple solid state power amplifiers (SSPAs) that are phase-combined to reach RF output power levels that exceed what is attainable from a single amplifier. Typically combined in multiples of four, eight or sixteen amplifiers, they  are mounted on a frame assembly that is configured to facilitate a particular mounting option. Options include antenna foundation, work platform or counterbalance/side arm mounting, though virtually any profile can be designed and fabricated to meet unique requirements.
Summit systems from Advantech Wireless Technologies are designed to generate RF power levels of 1kW to 10kW, depending on the frequency of operation. The amplifiers communicate over a CANBus platform, which allows the system to be managed as a single amplifier. One of the principal benefits of Summit is that the failure of a single amplifier is compensated by the remaining amplifiers such that the total system output power remains unchanged. 2.4dB (4-amp system), 1.2dB (8-amp system) and 0.6dB (16-amplifier system) is held in output backoff and recovered by the system controller in the event of an amplifier failure. Refer to the table below to see the resulting saturated and linear power level pre and post module failure.