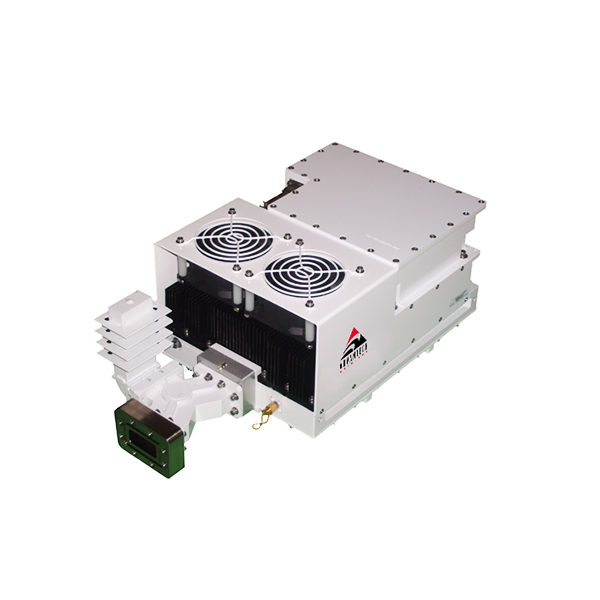 Overview
The C-Band SSPA/SSPBs, SSPB-2100C series, are hub-mount up-converter transmitters, operating in the C/X and Ku-Band. The SSPB-2100C is an integrated unit, complete with power supply, phase-locked oscillator, mixer, filter and cooling mechanism. Intended for outdoor operation, the SSPB-2100 provides the utmost in convenience and efficiency. Other SSPB‰'s are also available for higher powers or for operation at other up-link frequencies. Built-in microprocessor controller provides the capability for serial port interfaces (RS232/485) for remote monitoring and control.
Features
Converts L-Band to C (see table A)
Integrated amplifier with output power of 80W to 125W (see table A)
Phase-locked oscillator to external 10MHz reference
High linearity (low intermodulation products)
Remote Monitor & Control
RMS power detector
Protection against thermal runaway and out-of-lock conditions
Output sample monitoring port
Built-in power supply
Integral Harmonic Filter
Light weight
Compact Weatherproof packaging
CE Marking
Options
Redundant ready(with isolator option only)
Discrete monitor & control interface
Internal 10 MHz reference (auto-sensing)
Accessories
Remote M&C panel (Ethernet port optional)
Handheld terminal
Boom mounting kit
Redundancy kit
Application
The SSPB-2100C series convert an L-Band signal to the C-band frequency (see table A). Designed for satellite up-link applications, the SSPB series are available in output power from 10W to 1000W. The SSPB-2100C series are fully integrated units from 25W to 125W output power designed for mounting outdoors, near the hub of an antenna.