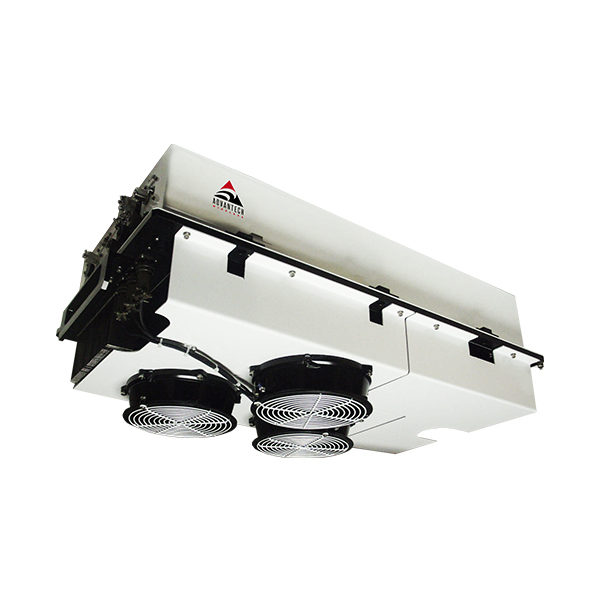 Overview
The Advantech Wireless range of C-band transceivers uses the latest technology, local and remote control thus providing the ultimate in performance and user friendly operation at a very competitive price. AWMT-5000LC is a family of hub-mount transceivers operating in the C-band from 300W to 500W. These transceivers are designed for continuous operation in the harshest outdoor environment. The built-in microprocessor controller provides for external monitoring and control of the operating parameters, and for the redundancy control. The LNB is connected to the transceiver with a single coaxial cable. Apart from the LNB, the complete unit is available in a single integrated package. Higher power transceivers are also available in the AWMT-LC series for up to 1000W. The flexible and comprehensive monitor and control features on the transceiver ensure that it will fit into any network management system architecture. The user-friendly RS-232 interface will provide full set-up and fault monitoring facilities via a PC terminal mode communication or a hand-held terminal. The RS-485 interface will provide functional remote Monitor & Control, using the Graphic User Interface (GUI) or the Monitor & Control Panel.
Features
L-band Tx and Rx interface
Easy to install and operate
Compact light weight design
Weatherproof package
Phase-locked LNB
Low phase noise
Remote Monitor & Control (RS-232 and RS-485)
Relay alarm indicators
LED status indicators
Automatic high reflected power protection
Harmonic Filter
High stability internal 10MHz reference
Downloadable PC GUI
Redundant operation ready
Application
The AWMT-5000LC is designed to operate in the C-band with L-band interface. The unit is self-contained and is intended for mounting outdoors, close to the OMT of an antenna.
Options
Extended C-Band (5.85 ‰- 6.725 GHz)
LNA operation
Remote M&C panel (Ethernet port optional)
External 10 MHz reference with auto sensing
Accessories
Mounting kits for transceiver installation
Redundancy kits
Mounting frame for redundancy applications
Transmit Reject Filter and/or Receive Reject
Filter (external)
Remote Control Panel
Hand-Held terminal
Redundancy
The AWMT-5000LC series of transceivers may be configured to operate in 1:1 redundancy mode. No extra controller is required for redundancy operation, as the built-in controller in each amplifier provides this function. Redundancy kits are required for redundant operation.