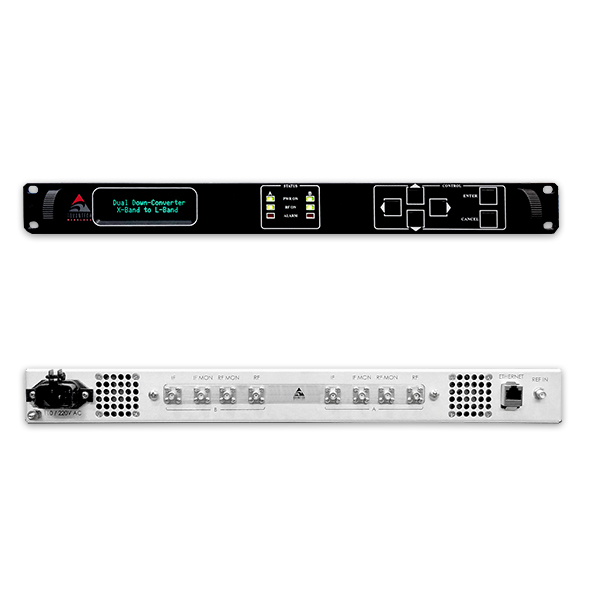 Dual Channel X-Band converter with phase tracking and matching
For Satellite Tracking and Navigation Applications 
Overview
The Advantech Dual Channel Phase Coherent series of converters are designed for specific applications that require dual channel, coherent signal processing as applicable to TT&C and LEO Satellite Tracking and Navigation. Each 1RU shelf includes two independent Up (or Down) Block converters that are coherent in phase and phase matched.
These new frequency converters use the latest technology in RF conversion, with outstanding performance in spectrum purity.
Independent Input and Output attenuators allow maximum flexibility in adjusting levels on each channel, as the application requires.
Sample ports are available for each channel, on both Input and Output ports.
The flexible and comprehensive monitor and control features on the converters ensure that it will fit into any network management system architecture. The user-friendly front panel or the Ethernet interface will provide full set-up and fault monitoring facilities.
The PLL oscillator used in the converter is either locked to a highly stable internal 10 MHz reference or if the external reference option is fitted and the proper level of signal is present, the PLL will automatically lock to the external reference.
Features
Dual L to X or Dual X to L block Up converters in single 1RU
Coherent Phase tracking between each channel over time
Gain tracking between channels
Phase matching between channels
Low Phase Noise
Low Spurious levels
Independent Input and Output attenuators
Internal/External 10 MHz with Autosensing
Front panel control (local)
Input / Output Monitoring ports for each channel
Full remote control (remote) via Ethernet with SNMP V1
Application
The Dual Channel Phase Coherent  series of X-Band Up converters is particularly suited for use in applications that require phase coherent signal processing, TT&C and new LEO Satellite Tracking and Navigation.
The Advantech range of converters provides an industry leading MTBF of over 120,000 hours. The converters are MIL STD-461F compliant.
Options
Rack Mount set of slides
Note: Consult factory for detailed configuration