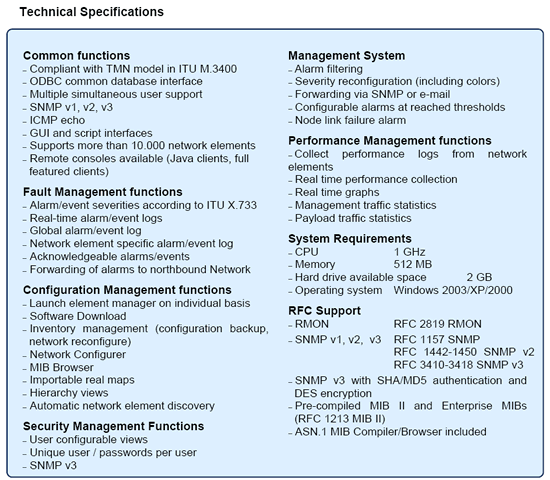 Overview
The NetWay Manager software is the generic network management platform for Advantech Wireless Microwave products. NetWay Manager is designed to centrally monitor and manage critical network interconnected devices. The system keeps track of the equipment status in real time and ensures the quality of network operations. Time, software and other critical parameters are easily synchronized through a complete network. The software can act as a feeding node to upper layer Network management systems. NetWay Manager can be used as a Network Element Manager and as a Network Management System giving total overview of all network elements with standard protocols.  NetWay Manager is scalable in order to meet different levels of customer requirements. NetWay Manager includes functionality for Fault Management, Configuration Management, Performance Management and Security Management.
The following value-adding NetTools modules are available:
Software Downloader
Network Configurer
Network Data Collector
Configuration Backupper
Features
Network status in real time
Based on open standards
Easy integration with third party SNMP-based elements
User friendly interfaces
Scalable
Robust
NetWay Manager
Optional value adding NetTools – The NWM NetTools enables you to manage your entire network in a more efficient way. The following add-on modules are easily available by a right hand mouse click.
Software Downloader (SD) – Used for downloading new software to all, or selected Allgon Microwave devices in the network, which assures a safe and scheduled download with software swapping.
Network Data Collector (NDC) – Used for creating a number of network reports. You can either use the predefined or create customized reports.
Network Configurer (NC) – Used for changing common parameters for all, or selected network elements.
Configuration Backuper (CB) – Used to create a reflection of the configuration in a network element and to restore the configuration when needed.