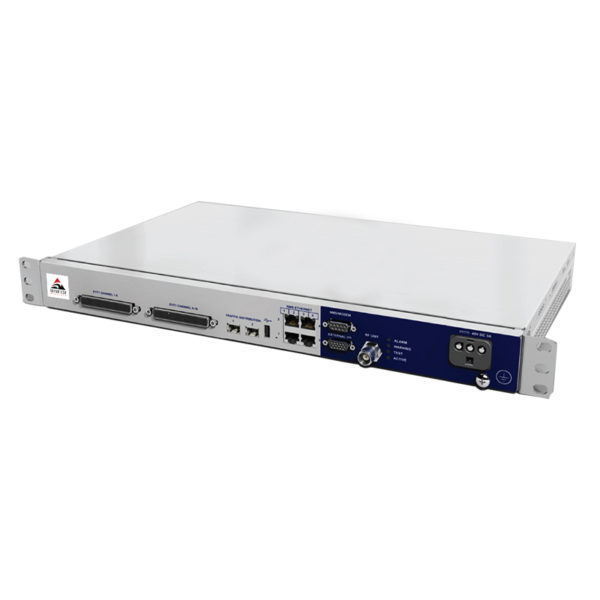 Transcend VP Microwave Radio
Overview
Transcend VP is the Value Proposition solution to microwave radio links ‰- designed and built for cost, reliability, and performance. The Transcend VP split-mount microwave radio is software adjustable up to 16 x E1/T1s with simultaneous support of TDM and Ethernet traffic. Transcend VP delivers an optimized solution for telecom and data communication networks.
With wide frequency support covering all licensed bands and bandwidths from 6 GHz to 38 GHz and the highest system gain in the industry, Transcend VP meets worldwide coverage demands for different network configurations and path conditions. Transcend VP includes full featured Ethernet switching and routing functionalities through its built in 4-port 10/100 BaseT Ethernet switch. Ethernet capacity can be flexibly assigned with support for port-to-port VLANs, flow control, and statistics.
Microwave network configuration is simplified through Transcend VPs ability for automatic discovery of other radios along a network via an Ethernet cable or a radio link. IP configuration is also flexibly supported through RIP. Advanced Ethernet functionalities include traffic shaping. Traffic grooming, cross connection, expansion, and redundancy is supported through the integration of a front plane high speed serial interface. This ring network‰'s serial connection offers high bandwidth, forward compatibility with Advantech Wireless latest radios and flexibility in radio and rack layout.
Transcend VP includes a secure Embedded Element Manager (Web interface, Telnet, and SSH) built upon open standards. Advantech Wireless optional NetWay Manager is a complete network management suite fully compatible with all Advantech Wireless point-to-point microwave radios. NetWay Manager Enterprise edition can be used both as a Network Element Manager and as a Network Management System giving you a total overview of all network elements with standard protocols.
Features
Industry leader in System Gain resulting in smaller antennas and longer distances between antennas
Common ODU architecture with other Transcend‰™ radios supporting low cost future radio capacity expansion
Automatic Transmit Power Control (ATPC) to reduce interference, improve residual BER, and reduce fade effects
Software Controlled Capacity Selection with flexible assignment between Ethernet and TDM traffic
Up to 16 E1/T1s supported with remaining capacity available for Ethernet traffic
Ethernet traffic capacity ranges up to 31 Mbps
Built-in Layer 2 10/100BaseT Ethernet Switch and Layer 3 router with full support for QoS and VLAN
High Speed Interface for traffic grooming and expansion
Fully Integrated Embedded Element Management